Shulander Archane/Music

Info
Title
Monarch of Darkness
Real Name
Shulander Archane
Gender
Male
Race
Human
Age
n/a
Status
Alive
First Appearance
Fallen King
Tarot
Emperor Arcana
Date of Birth
15th March
Place of Birth
The Tree of Life
Weapons
Archelon Tarot Cards
Blood Type
B+
Height
7'0
Battle Theme
Edit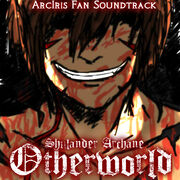 Archane's theme song is "'
Otherworld" (Final Fantasy X), by Nobuo'
Uematsu
. The title 'Otherworld' also represents Archane's twisted obsession to create another world, a 'perfect' Arcana.
Archane and Eleina actually have a theme of their own; "Beastboy and Terra" from the Teen Titans' soundtrack. The song is a theme for a completely separate and off-story chapter for Volume 1 where Archane decides to spend some time with Eleina, which slowly reveals a more human side of him throughout the chapter.
Ad blocker interference detected!
Wikia is a free-to-use site that makes money from advertising. We have a modified experience for viewers using ad blockers

Wikia is not accessible if you've made further modifications. Remove the custom ad blocker rule(s) and the page will load as expected.