Shulander Archane/Appearance

Info
Title
Monarch of Darkness
Real Name
Shulander Archane
Gender
Male
Race
Human
Age
n/a
Status
Alive
First Appearance
Fallen King
Tarot
Emperor Arcana
Date of Birth
15th March
Place of Birth
The Tree of Life
Weapons
Archelon Tarot Cards
Blood Type
B+
Height
7'0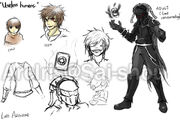 Archane has short, messy brown hair, his right bangs seemingly longer than the left. His eyes are a bright shade of red, and he has tattoos of the same color that ranges from his face to his chest and along his back. He has an average muscular build, and usually wears clothes of dull, grey-black colors.
His most consistent clothing is a long-sleeved shirt with a torn-up collar that often shows his collarbone.